Join our fundraising volunteers
Guide Dogs Tasmania has a dedicated team of fundraising volunteers of all ages, skill levels, and from all walks of life. Our volunteers are a vital part of our organisation, and help us to provide many of our important services.
Volunteering is a fantastic way to support Guide Dogs Tasmania, and Tasmanians living with disability. It also provides opportunities to:
make a difference
share skills and experience
learn new skills
teach others
gain valuable work experience
meet people and make new friends
increase your confidence and self-esteem.
For more information, please contact Kristy Wright on (03) 6232 1222 or email kristy.wright@guidedogstas.com.au.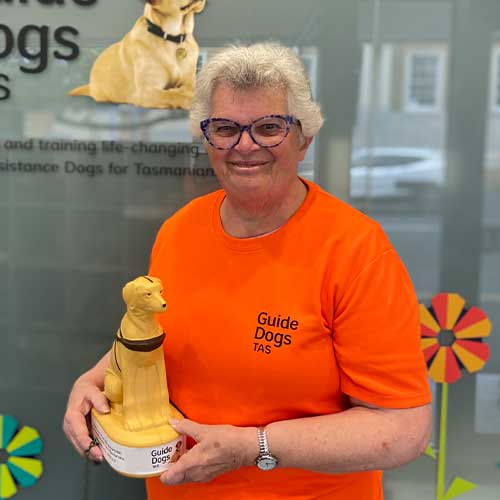 "Never doubt that a small group of thoughtful, committed citizens can change the world; indeed, it's the only thing that ever has."
Margaret Mead
We have a variety of vital Volunteer Roles available at both our Hobart and Launceston offices. We encourage volunteers to apply that can aim to commit to volunteering 1 day per week or 1 day per fortnight for a minimum of 6 months.
Guide Dogs Tasmania is an Australian Government approved voluntary work organisation.
Collection Dog Program Volunteer Roles
Collection Dog Program – Driving
If you love driving, getting out and about in the community, staying active and meeting new people while representing Guide Dogs Tasmania, this is a great role for you. Duties consist of effective collection and replacement of Collection Dog donations tins across business host sites in weekly scheduled collection runs.
Apply here for Launceston
Collection Dog Program – Administration
This is a great role for those that like to work behind the scenes while also providing a vital volunteer role for the Collection Dog program. Duties consist of accurately counting and recording funds received from individual Collection Dog business host sites.
Apply here for Launceston
Collection Dog Program – Maintenance
This role is for those with an eye for detail who don't mind getting their hands dirty. Duties include maintaining the appearance or our iconic Collection Dog donation tins (washing and replacing damaged stickers and security chains). Volunteers support the Collection Dog volunteer driver role by ensuring there is enough clean mini dog collection tins to be used on the following weeks scheduled collection runs.
Apply here for Launceston
Events and Fundraising Volunteer
Are you a social butterfly, love to meet new people and be actively engaged in your community? This is a great role for those that would enjoy representing Guide Dogs Tasmania by being face to face with our amazing supporters at events and pop up shops. Duties include providing information about our vital programs and services, accurately recording sales of merchandise, donations and donor details, cash handling and retail skills.
Apply here for Launceston
Ambassador Dog Handler Volunteer
This role directly supports our events and pop up shops we host in the community. Ambassador Dog Handler duties include attending events with an Ambassador Dog, engaging with the public, promoting our programs, services. Great communication skills are essential for this role. Handlers must be able to undertake dog handling skills training and attend ongoing training sessions. Flexibility to also volunteer as an Events Volunteer in conjunction with this role is highly desirable.
Apply here for Launceston
Community Group Talks and Presentations Volunteer
If you have a passion for presenting to large and small groups, promoting education and being an ambassador for Guide Dogs Tasmania this is a great opportunity for you. Guide Dogs Tasmania regularly receive requests to visit community groups and schools as a guest speaker. Ambassador Dog handling skills beneficial but not mandatory for this role.
Apply here for Hobart
Apply here for Launceston
Sign up to keep up-to-date
Get occasional updates about our puppies and their life-changing journeys, meet the Tasmanians they're helping, and receive special event invitations.
Sign Up For Puppy News