Our Guide, Therapy and Autism Assistance Dogs do so much more than help Tasmanians with low vision, disability and illness to navigate the world around them. They do more than settle and calm a child living with autism, or someone struggling with trauma or illness.
These dogs give the gift of independence and confidence to their handlers, and it takes two years of intensive training to prepare them for their unique task. They bring joy and companionship, hope and opportunity not only to the people whose lives they are changing, but also to their families.  
By leaving a gift in your Will to Guide Dogs Tasmania, you will not only support the training of these incredible dogs, your gift will help many more Tasmanians realise the power of the bond between human and dog in achieving greater freedom, independence and companionship.
We honour the generosity of our wonderful supporters who have included Guide Dogs Tasmania in their Will, by inviting them to join The Merran Thurley Society.
A special offer for Guide Dogs Tasmania Supporters
Guide Dogs Tasmania have partnered with online Will writing platform Willed, who have offered a discounted rate to our supporters. For more information, click here (link opens in new window).
Leave a gift for the future now
For a confidential discussion, please complete the form below or contact our Planned Giving Coordinator:
Phone: (03) 6232 1261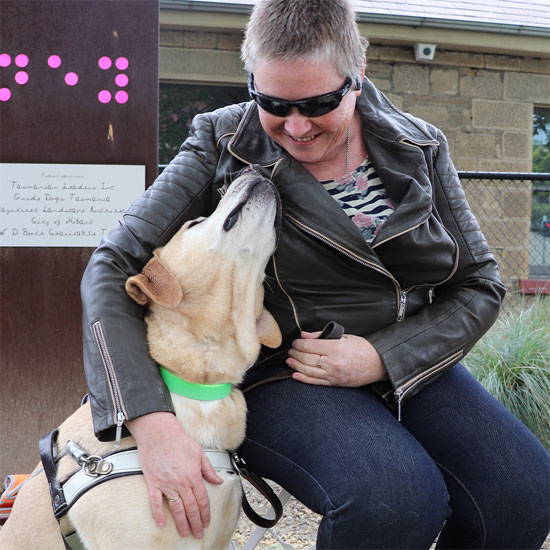 I think the training of the dogs is amazing and the trainers must be very special people. I believe that they are a keystone in the lives of the visually impaired. I encourage anyone to support Guide Dogs Tasmania with a bequest from their Will.

Philip Whitehead

Bequestor
It's not something you're going to see the results of in your lifetime, but it's about what you can do for someone in the future.

Rhonda Cronan

Volunteer & bequestor
It means that I've done something worthwhile that has helped others and I thought there was no better charity than Guide Dogs Tasmania.

Mrs Self

Long-time supporter, sponsor & bequestor
If it wasn't for the generosity of others, I may not have been so lucky to have had eight wonderful dogs over the last five decades.

Merran Thurley

Client, long-time supporter & bequestor
The Merran Thurley Society
Although you are not obliged to inform us if you are planning to leave a gift in your Will, we encourage you to do so.  Not only so that we can thank you in person and discuss your wishes, but also because we would love to welcome you to join the Merran Thurley Society.
The Merran Thurley Society was established to honour the generosity of our wonderful supporters who have included Guide Dogs Tasmania in their Will. Membership to the society is optional and free and as an honorary member, you will receive invitations to special events, regular updates, an exclusive membership pin, and other opportunities for recognition.
Learn more
Sign up to keep up-to-date
Get occasional updates about our puppies and their life-changing journeys, meet the Tasmanians they're helping, and receive special event invitations.
Sign Up For Puppy News