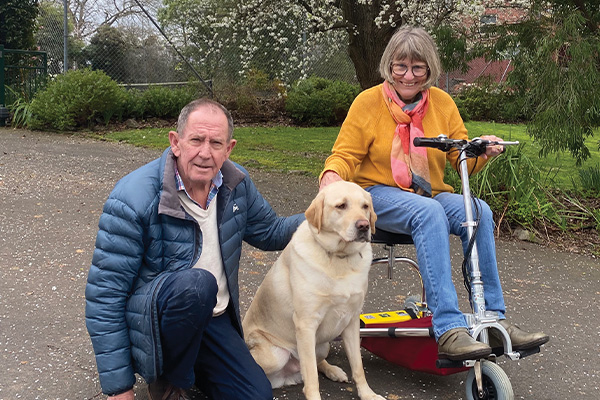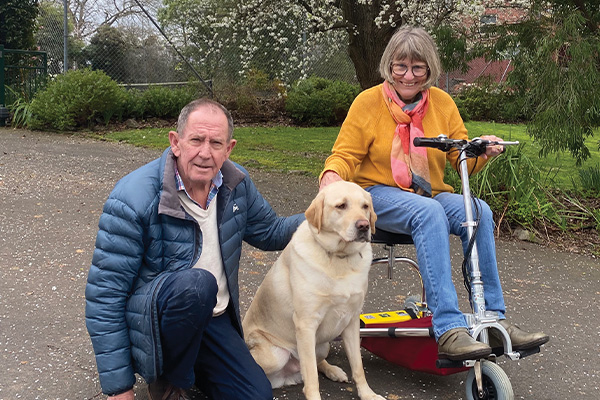 Margaret and Stephen are experienced dog owners who have always had dogs in their lives, but they describe Alfie as 'very, very special'.
Companion Dog Alfie joined the couple nine months ago, and he is filling their days with laughter and happiness.
"Alfie has transformed our lives. He is amazing."
Alfie loves Stephen who feeds and walks him, but he has developed a very special bond with Margaret who is living with multiple sclerosis.
"He was meant for me", says Margaret. "He moves out of the way of my scooter, he rests his head on me all the time, and he knows I'm the one to come to when he wants to go outside. When Stephen is watching TV, Alfie always chooses to come with me when I'm ready for bed."
Alfie started his Guide Dog training, but after a frightening dog attack became very nervous on walks, so was reclassified as a Companion Dog.
Stephen and Margaret describe him as "the best trained dog they have ever met", and are very grateful to his Puppy Raisers and the Guide Dogs Tasmania staff for teaching him all he knows.
"He still understands the commands he learned when he was training to be a Guide Dog," says Stephen. "He doesn't bark at anything, would never ever dream of jumping up on people, and always lays quietly when we take him somewhere."
Alfie is also a celebrity in the neighborhood. "People just love him", says Stephen. "When I go out for coffee, he'll sit down next to our feet. A number of people have even come up to me wanting to buy him!"
Margaret and Stephen had hoped Alfie would learn to retrieve the newspaper, but laughingly explain "he isn't a fan of the plastic wrapping."
Despite not having quite mastered the newspaper task just yet, they describe Alfie as "the best dog we've ever had, with the most incredible temperament we've ever come across".