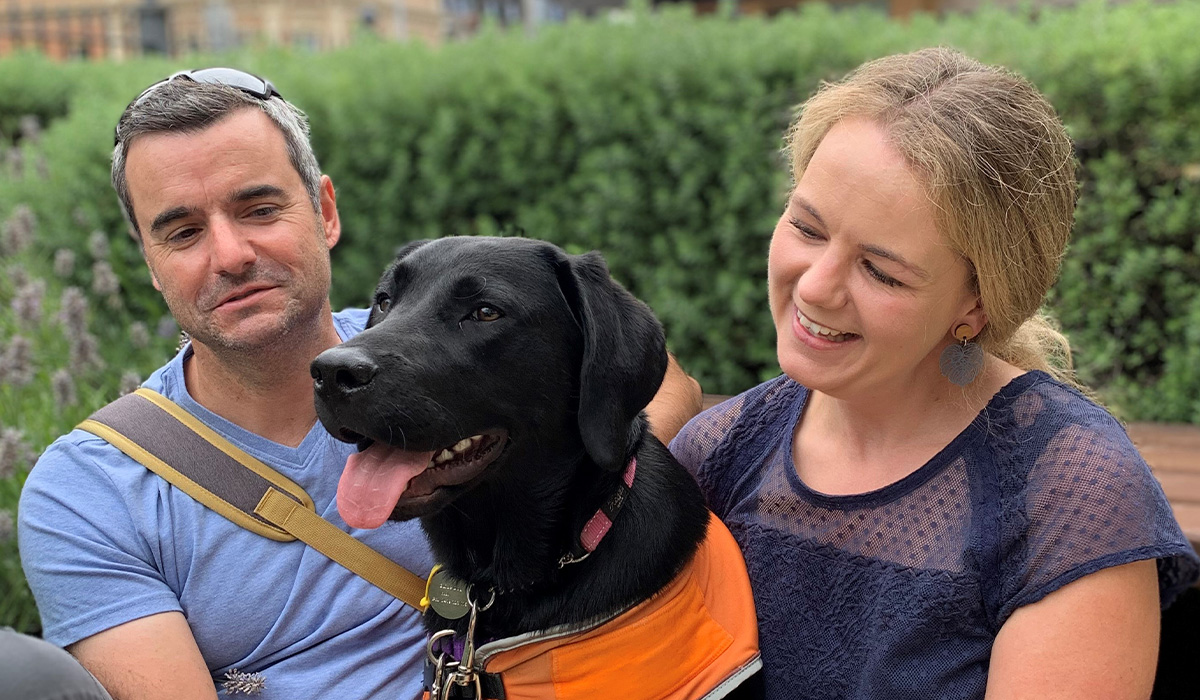 For first-time Puppy Raisers Georgie and Blair Smith, taking on tiny Teagan brought joy at a difficult time.
After their beloved Labrador Doug passed away quite suddenly last year, the Kingston couple saw a Guide Dogs Tasmania Facebook post seeking volunteer Puppy Raisers. 
"We were still pretty sad and grieving, so we thought it was a good way to have all the awesome things about having a dog but not yet getting a new pup of our own," says Georgie.
The couple applied, attended information sessions and had an assessment to ensure their home was safe for a puppy. "I work at the Antarctic Division and Georgie's a nurse, so I had to get permission to take her to work with me on the two days we're both working.       
But once that was approved, we just waited until we got the nod for a puppy," explains Blair.
"It was good to have something nice to think about," Georgie says. "The last few years being a nurse have not been ideal with what's been going on in the world at the moment. So it was good to have this little soul who came to us full of excitement and joy."
And although caring for a puppy takes time and dedication, Georgie and Blair find Teagan gives them so much in return. "We've gone out and done a lot more to expose her to different places when we might otherwise have been staying home, which isn't always good for us," says Georgie. 
"I feel like we're helping her but she's also helping us quite a lot as well."
"I'm enjoying learning all the dog behaviours and how to raise them and pick up on things," says Blair. "It's good to see the changes in her and how much progress she makes. It's nice to just walk up to an escalator and know that three months ago, she'd be scared, but now, she's fine."
Asked how they'll feel when the time comes to part with this cheeky, funny girl, Blair reflects: "It'll be upsetting to know she's going to leave us, because she'll be missed. But I think the overwhelming feeling will be that she's going somewhere really good, and she's going to be helping people."
"I'm going to cry," says Georgie, "but I'm going to be proud."