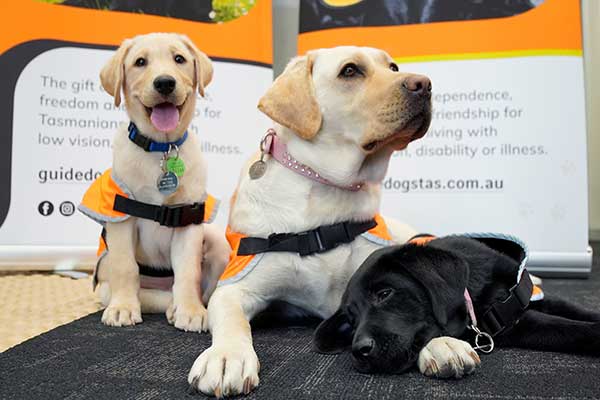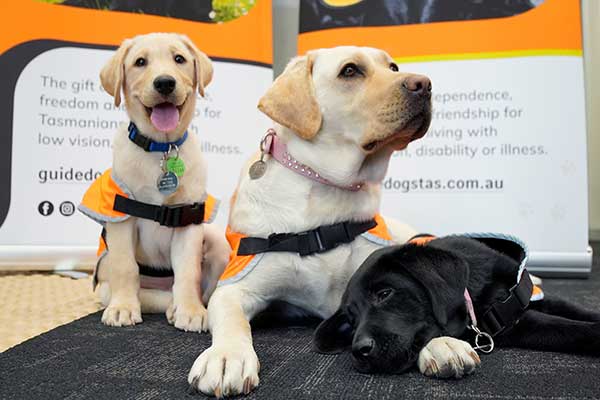 One of our very own dogs, Freda, has given birth to two puppies who are now eight weeks old. The pups are named Digby and Dora, and are delightful bundles of joy who are paving the way for an exciting year for the iconic charity.
Anna Presser, Chief Executive Officer of Guide Dogs Tasmania, says the birth of the puppies is a very happy occasion for the organisation.
"Guide Dogs Tasmania has been supporting people in our community for more than 60 years, and we are delighted to share the news of these gorgeous puppies," says Anna.
With expert training provided by our staff and volunteers, they will go on to change the lives of people living in the Tasmanian community"

– Anna Presser, CEO
We are so grateful to Puppy Development volunteer Tracey and her family, for taking such incredible care of Freda and her pups.
The puppies are now living with their volunteer Puppy Raisers, who will raise and socialise them for approximately 18 months before they enter formal training for their chosen career path. This may be as a Guide, Autism Assistance, Facility, Therapy, or Companion Dog.
Guide Dogs Tasmania is always looking for Puppy Development volunteers to open their hearts and homes to pups just like Dora and Digby. For more information, click here [link opens in new window]