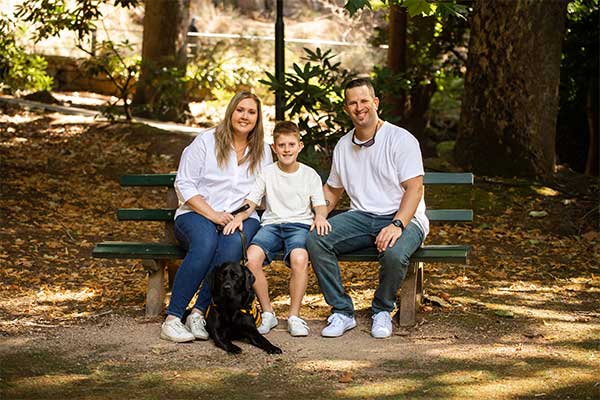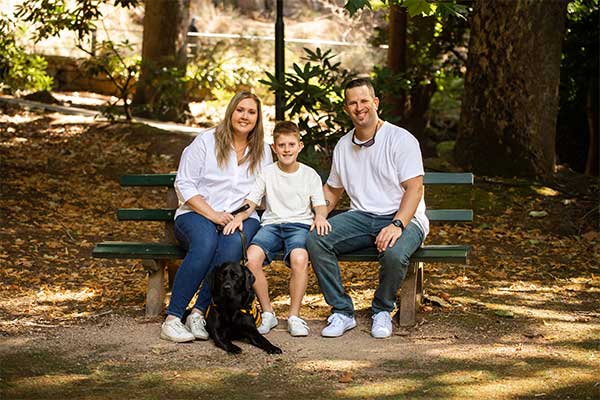 Cooper, aged 10, is autistic. His autism makes him think, feel and interact very differently from other children his age. His reactions can be unpredictable, which makes everyday tasks really challenging for the whole family.
Cooper has a real fear of being alone, which means he must have someone with him at all times, even when he's playing. He goes into panic mode if he is left alone for a second.
"We have tried so many different strategies, but nothing has been successful. We just want him to feel safe and secure in his own home. It is really tough on the whole family," says Cooper's mum Juleen.
When they heard about the life-changing role an Autism Assistant Dog can play, they were very hopeful Guide Dogs Tasmania would be able to find a match for Cooper and the family.
When Cooper and his family were matched with Ronnie, they did not expect Ronnie to have such a fundamental impact on all of their lives.
Cooper's dad Ian shares his story…
"Since Ronnie has come into our lives, he has been the ultimate professional. With his coat on, he is attentive, protective, and 100% committed to his role.  He provides our son, Cooper, with energy, motivation, and independence in difficult situations whilst at the same time providing him with comfort and relaxation."
"But life is great for Ronnie, too. He has definitely made himself at home since joining our family. He has more toys than a toy shop and a family that dotes on him constantly. We honestly could not imagine our lives without him.
With Ronnie's support, Cooper has the opportunity to grow into a confident, motivated, self-aware individual ready to take on any challenges that come his way.
Thank you to everyone who made this possible. The Puppy Raisers, Trainers, fundraisers, and sponsors. We are so grateful to have Ronnie in our lives, and it has been life-changing for Cooper, Juleen and myself. For that, I can't thank you enough."