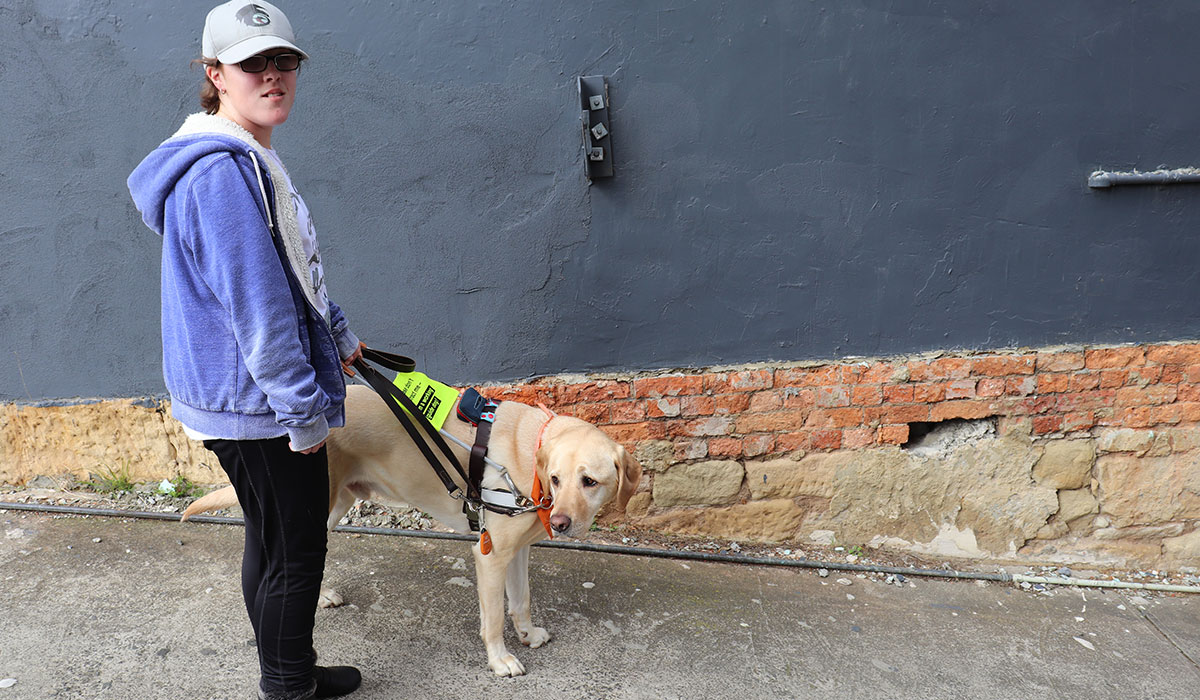 Emily Pettit has always been shy but now, with Guide Dog Harvey by her side, she is a young woman on a mission to share information and spread understanding in her community.
This year, 20-year-old Emily chose to participate in our annual community fundraising event, Pawgust, which asks participants to walk with their dog for at least 30 minutes a day for the month of August.
That's no small feat for a young woman who until recently didn't feel confident talking to most people and was still learning to trust her Guide Dog.
However, Harvey has made such a difference in her life that Emily wants to help people better understand the life of a Guide Dog and the people they support.
And of course, with his easy charm and joyful nature, Harvey has been breaking down barriers and helping start those important conversations!
"When you have a cane, people avoid you … but with Harvey, if you want to go somewhere, it takes you an extra 5 to 10 minutes just to get there because people keep stopping you every two seconds to ask about your dog," says Emily.

"People don't realise how much time and effort and money goes into training these dogs and I just want to raise funds, spread awareness and try and get rid of some of the stereotypical things that people think of Guide Dogs, that they're always perfect and that they're robots."
Describing what he's like when off duty, Emily laughs: "He just bounces around the place. He either sleeps most of the time or he's in a super playful mood … and he just wants to play or be cuddled."
She says that at the dog park, when people realise Harvey is a guide dog, they express surprise that he's allowed to run and play.
"People assume that you work them all the time and that they never get any time off, but he sleeps more than he works … he's a big couch potato."
Emily also wants people to understand that Guide Dogs are not just for older people. "When people see me with Harvey they often assume I'm training him for an older person to have, but of course he's mine."
As for the biggest change Harvey has brought to her life, Emily replies:
"The companionship of having someone who's there. He knows that when I'm at the doctor I get really nervous, so he puts his head on my lap and looks at me, and I just pat him. He's kind of like a Therapy as well as a Guide Dog."