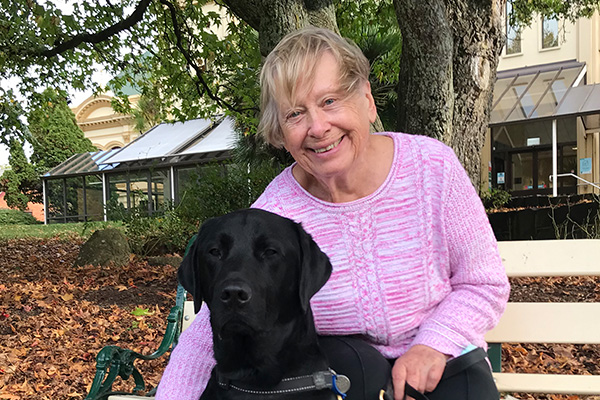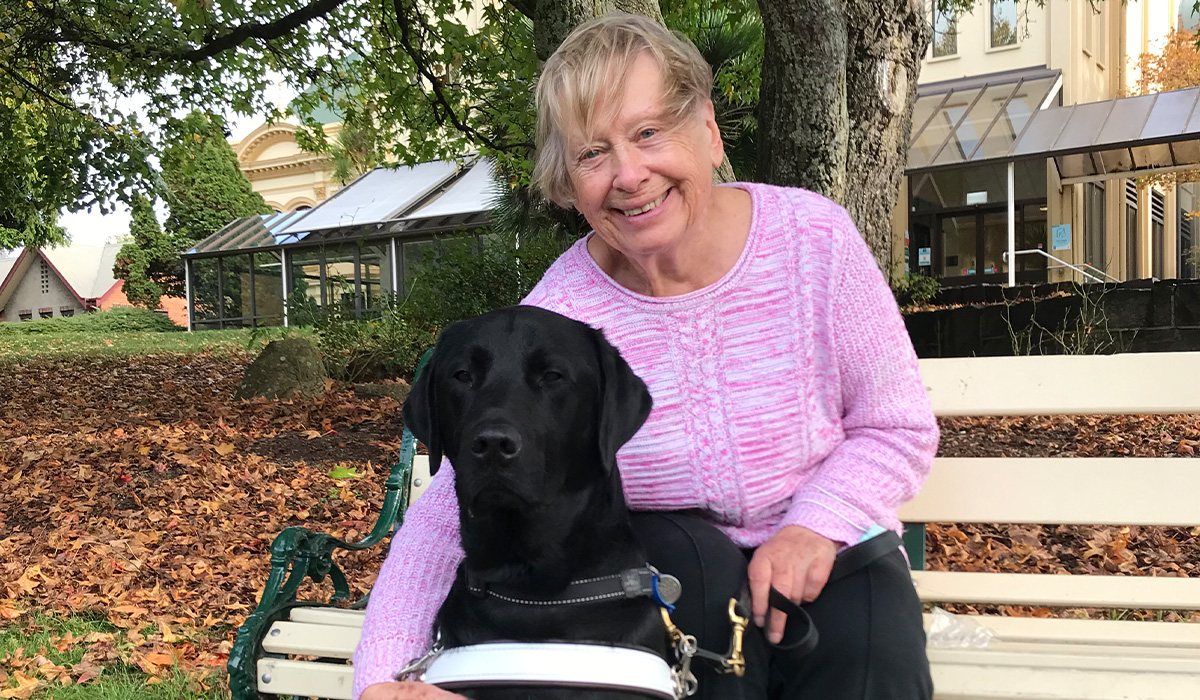 Gentle but quirky black Labrador, Victor, is helping Jenny reclaim her independence, her energy – and her life – after the loss of her beloved Guide Dog, Quinnell.
Quinnell was just about to retire after seven years of faithful service, when he passed away after a sudden illness late last year. For Jenny, it meant the loss not only of her beloved and trusted companion, but also of her confidence and sense of wellbeing.
"It wasn't good," recalls Jenny. "I still had to go out to appointments. But I realised I was asking Steve (her partner) to drop me off or take me somewhere, whereas before, I was more independent." 
"And using a cane, I was spending a lot of time concentrating on where I was going, and finding the pavements so uneven when I hadn't noticed before. I'd be trying to remember the spots where the cane was going to jab me in the hip. So I wasn't as relaxed going out; it was tiring and it wasn't a pleasure."
But after four months, Jenny was matched with beautiful Victor, and already, they have built a trusting bond.
"Victor is like a carer because he cares about where I'm stepping and where I'm going, making sure I don't bump into things."
"One time, we were out at a difficult spot that I don't usually go to because of the traffic in and out of the parking area. There was a car coming in at the same time as a truck was backing in and out. I thought I was okay to walk because I hadn't seen the car, but Victor saw it – and he curled around in front of me and stopped me going forward."
Jenny is also enjoying getting to know Victor's personality. "He is such a gentle dog, and he has two speeds," she laughs.
"When I say 'steady,' he slows down and we go at a quieter pace. But if I feel like I'm wanting to race down the road, he's quite happy to do that too."
"Having Victor after those four months has definitely made a huge difference. I hadn't been getting out as much and mentally, I was a little bit down. But I have the incentive to get out now. It's very freeing."